This page is checked regularly and updated if there is any new information available. It was last updated on October 30, 2020. As this page had grown far too long to be readable, I have removed all the separate updates and worked the information into the relevant sections in this page.
ferry?
Should you wonder if there is a ferry to Madeira, I have to disappoint you. Corruption and favouring the big Madeira monopolist Grupo Sousa have successfully shot the very useful ferry service down. Money before people. Yes, that is a scandal. And yes, I have written the story down in this article.
new page about covid related information
I have created a new page where restrictions and rules concerning covid-19 have been concentrated. As I said, this page was getting far too long, and it was no longer easy to find relevant information on flight possibilities. This page has now gone back to its real purpose: flights. All specific covid-related stuff has been removed and is published in a dedicated page. There is also a page with an overview of the latest covid-19 information on Madeira. Do scroll down to the very bottom of this page and subscribe to my news emails to never miss new information or new blog posts. Should you wonder about the procedure to get a free test upon arrival at the Madeira airport, there is a complete 'manual' in the article here.
Updates.
This page is, as someone commented, a living and morphing thing. And so it should be, and that goes for any web page. Things change and new information becomes available. I'd like to express a huge Thank You to all those who have commented. All your comments and information have been double-checked and worked into the relevant sections of this page. I will continue to answer every one of you individually in the comments section at the bottom of this page. Also, I will alter the article if I find any new information that differs from what I wrote originally. As always, I'll check and double-check. Mind, I don't know everything either, and I am grateful for all your contributions.
information per country or per airport: jump to where you want to go!
I have tried to separate flight information per airport. To make it easier for you to find what you are looking for, you can now jump to the section you need by clicking on the links here: London, Manchester, Birmingham, Scotland, Newcastle, Bristol, East Midlands, Leeds-Bradford, at present the British airports with direct links to Madeira scheduled. Or you can jump to the sections for Germany, The Netherlands, Belgium, Scandinavia and Finland, Poland, Austria, Switzerland, France, Czechia and Slovakia, Italy and Spain.
Before you fly, however, you need to register as a visitor to the island, and you need to choose between having yourself tested on covid-19 before you fly of after you arrive in Madeira. A special page explains it all, and tells you about the procedure.
Leave a comment at the bottom of this page if you are looking for specific information. We don't know everything, but we have a lot of sources of information so we may be able to find out what we don't know!
the key question: how to get to Madeira
Great Britain
It looks like the biggest problem of travel restrictions for the British lies in the United Kingdom and not in the European Union. Though I'd love to add some political comments here, I will refrain. Reluctantly. If you wish to travel to Madeira, or to any other European destination, make sure and find out exactly what awaits you when travelling back to the UK, because you may be required to remain in quarantine for two weeks. And it may even be different for England, Wales, Scotland and Northern Ireland. All this is reflected in the travel possibilities. At present, there is no rule requiring you to (self)quarantine when returning from Madeira to England. If you travel to Scotland, you have to self-isolate for 14 days. As a European, I can tell the Kingdom is very United indeed.
London airports
Jet2.com has resumed flying from Stansted, usually on Mondays and Fridays. In some months there are even 3 flights a week. Check their website. From Heathrow, British airways have resumed their flights to Funchal again, several times a week. Check their website here. From Gatwick, easyJet has several flights a week to Madeira, increasing the number to daily flights in December. All airlines seem to operate according to schedule again, though easyJet has been seen to cancel flights if adverse weather conditions are possible, even if these conditions (usually high winds) do not materialise.
British Airways have cancelled all Gatwick flights and moved the Madeira operations to Heathrow for the foreseeable future. There are 4 flights a week, according to their website. Tui will operate weekly flights from Gatwick on Mondays starting October 26.
The Polish carrier Wizz Air will start flying from Luton to Funchal as from December 15. They will fly twice a week: Tuesdays and Saturdays.
Manchester
Jet2 has scheduled 2 weekly flights, and three from november onwards. Check their website here. TUI will resume flights to Madeira in March 2021, according to their website.
Birmingham
Jet2.com has weekly flights on Monday, adding a second flight from November onwards, mostly – but not always – on Fridays. From April, they will go back to a once-a-week schedule with flights on Mondays.
Scotland
From Edinburgh, Jet2.com has a weekly flight on Mondays. In November 2020, Jet2 will resume their flights from Glasgow. Weekly on Fridays. From December.
Newcastle
Jet2.com is resuming their direct flights to Madeira in the last week of October. They have scheduled weekly flights, first on Thursday, changing to Sundays after the first week.
Bristol
Direct easyJet flights from Bristol have resumed, two or three times a week. Check their website here for availability and prices.
East Midlands
You can take a Jet2.com flight every Monday from East Midlands. Tui has scheduled to resume their flights to Madeira from May 2021, according to their website.
Leeds-Bradford
Jet2.com operates a weekly flight to Madeira on Sundays, and a second flight on Tuesdays in the weeks around Christmas and New Year.
Germany
Lufthansa and Condor Airlines have resumed their direct flights to Madeira. Lufthansa takes you to Madeira on Saturdays. Either from Frankfurt or from Munich.
Condor has made my life quite easy by just having a timetable available. I wish all airlines did this, it is quite a puzzle and very time consuming to find out who flies where and when. But here you go. Condor even gives Lufthansa a run for their money with this excellent little document. As you can see, there are many airports to choose from.
TUI Fly has quite a lot of flights as well. Unfortunately, there is not a handy table like Condor has, but if you go to tuifly.com you will find a lot of possibilities. Düsseldorf has three flights a week, later in the year, the number will even be increased. Frankfurt has two to three flights a week, Munich usually has one flight a week but no flights in November, December and January. From Berlin or Hamburg, you can even fly four times a week, three in December and January. Stuttgart will have a weekly flight again from October 2020, increasing the number of flights to three from February 2021. From Hannover you can fly once a week, twice in October, and from February twice again, increasing to three flights a week from the end of March. Leipzig-Halle had one weekly flight until mid-September, it will pause during the winter months, to start again with a weekly flight in mid-February. From Cologne/Bonn you can fly to Madeira again from May 2021.
The Netherlands
Transavia has three flights a week from Amsterdam, on Tuesday, Thursday and Saturday. The frequency will be reduced to only one flights a week in from late October (Tuesdays and Saturdays) to be raised to three again mid-December till mid-January. Then they will be reduced again to two a week, until going back to three early February. TUI Nederland is also offering flights, but they are operated by Transavia for the time being. Also, TUI offers covid-19 tests at their expense prior to departure. Taking the test provided by TUI is mandatory as you will be denied access to the plane without one.
Belgium
From Brussels, TUI has picked up flights to Madeira again, on Fridays and Mondays. Like the Dutch TUI, the Belgian TUI has the wrong information about compulsory testing before departure. Madeira offers a free covid-19 test upon arrival, it is not necessary to have one taken before departure, whatever TUI says.
Returning to Belgium requires that you submit a Public Health Passenger Locator Form. Read all about it in this dedicated webpage. Note that the information has been clumsily worded, as the first paragraph suggests you don't need to do this if your stay in Belgium is less than 48 hours. This is not the case, however, the 48 hours rule only counts for passengers who arrive by car or other private transport. If you arrive by plane, you need to fill out the form. You can find this form here.
Scandinavia and Finland
The successful and very practical Norwegian Airways will start flying from Copenhagen again from early November. There have not been any other routes announced so far.
At present, there are no direct flights from either Sweden or Norway to Madeira. However, there are decent connections with one stop in Lisbon. As there are multiple daily flights between Lisbon and Funchal, getting a connection should be relatively easy.
Finnair has some bookable flights from Helsinki to Funchal. However, the information is not very clear, their website has no decent timetable and even skyscanner.com gives confusing information. It's best to actually check if there is a flight on the date you want to fly. If there is no direct flight, you can always travel via Lisbon, which is not too complicated.
Poland
It looks like WizzAir have resumed the direct service on Saturday to and from Warsaw Chopin. Strangely, these flights do not appear in the SkyScanner search engine. I have checked the Wizzair site and they are really there. I found that the English version of the website does not work properly and it may seem the flights you are looking for are not there. The Polish version works, and the flights show up. Plus, I can see in Flight Radar 24 that they actually fly.
Austria
At present, there is no sign that Austrian Airways will pick up the line Vienna-Funchal. However, there are plenty of possibilities. TAP has a line from Lisbon to Vienna, and a one-stop connection will be easy to find for almost any date. For those living in the Salzburg area, taking a direct flight from Munich is also a good possibility.
Switzerland
On Tuesdays and Saturdays, you can take a direct Edelweiss flight from Zürich to Funchal. Swiss Airlines also offers flights, but they are executed by Edelweiss as well.
On Tuesdays, you can also fly from Basel-Mulhouse, as easyJet does weekly direct flights from there to Funchal. The airport is really in eastern France, so this information may also be of interest for French travellers in that area of their country.
France
Like Amsterdam, three French airports are connected to Funchal by Transavia Airlines. These connections are also started up early July. There are direct flights from Paris Orly, Lyon and Nantes.
Paris-Orly has two weekly direct flights, increasing to daily or almost daily flights during a part of October, most of November and all of December through to the end of January, after which they will return to 4 flights a week for a while, then going back to a stunning daily frequency. This looks too good to be true, so I will keep a close eye on the reality of their information.
From Lyon, there are some flights on Saturdays. starting mid October. Mind, not all Saturdays see a flight scheduled.
Starting mid-October, you can also fly from Nantes, mostly on Saturdays, but not every week, until closer to Christmas the schedule seems to become more stable and indicates flights on all Saturdays.
As I already mentioned, easyJet has weekly flights from Basel-Mulhouse in Eastern France on Tuesdays.
Czechia and Slovakia.
Smart Wings offer a weekly return flight from Prague. The same flight is also offered by Czech Airlines but is executed by Smartwings. Unfortunately for Slovakians, there is no practical way to get from Bratislava to Funchal. The best bet is to travel via Prague or even to Munich, as a flight with 2 or more stops is hardly feasible. For some Slovakians, it may be interesting to travel via Vienna, though even then there is no direct flight at present.
Italy
Italy has not, and has never had, direct connections with Funchal. No matter. The main Italian airports are well serviced by TAP Portugal to bring you to Lisbon. From there, it is not difficult to get a flight to Madeira, especially when the frequency of the flights between Madeira and the mainland are brought back to their usual frequency.
Spain
The Spanish mainland has no direct connections with Madeira at present. For now, only Gran Canaria has direct flights to Madeira. But there are excellent connections to be found from the major Spanish airports to either Lisbon or Porto, so a one-stop connection should not be too difficult to find.
flying to Madeira with a stop: TAP Portugal
Why not fly via Lisbon or Porto? There are less direct flights to Madeira in the summer of 2020. And some have a habit of leaving at an ungodly hour. Therefore, many prefer the hassle of a stop in Lisbon over losing a good night's sleep, thus really losing the first day of their stay on Madeira for pure exhaustion. The logical choice would be the Portuguese national carrier TAP Portugal, Wherever you are leaving from, you always have a stop in either Lisbon or in Porto. For those with plenty of time, this may be a bonus, as TAP Portugal offers 'free' stopovers of up to 5 days without an extra . If you haven't been to either, both cities are really worth a stay, but of course, you will need a hotel and meals are not free.
limited transfer time
If you decide to fly with TAP Portugal but without a stopover, usually, TAP has connecting flights with a limited wait in Lisbon or Porto. Sometimes, the transfer time is less than an hour. That should not be a problem, but if you arrive in Lisbon or in Porto a bit late, you may still catch your connecting flight, but your bags may not. It is not a huge problem, because the bags will turn up and TAP will deliver them at your holiday residence. Still, it is annoying, especially if you did not think to put some emergency undies and a spare shirt in your hand luggage.
In conclusion, Madeira is one of the safest destinations at present. As we keep saying in our blog articles: the stunning nature of Madeira knows no covid-19 restrictions and most footpaths are open as usual. Before booking, make sure there is no negative travel advice in place. Also, make sure you will be able to return home. Unless, of course, you have your own home on Madeira and can stay indefinitely.
thumbs up or heads up?
I have tried to keep track of the performance of the airlines that have picked up their flights to Madeira again. Most planes are more or less fully booked, which is good because they need the lines to be profitable. We need that too because if they aren't they will be discontinued. If you have booked a flight to Madeira – or from Madeira – let us know your experiences. By doing so, I will be able to add a list with the ones that deserve a thumbs-up mark, and those who need a heads-up-mark. Simply tell us by leaving a comment at the bottom of the page.
So far, it is mainly easyJet who has been misbehaving. We have had several occasions where they cancelled their flights because of adverse weather conditions. When this happened, all easyJet flights for that day were cancelled or seriously delayed, so not just the ones from abroad, but also the flights from Porto and Lisbon. I can imagine that airlines do not wish to suffer more losses for having to divert to another airport and having to pay for hotels and meals. But that really is their risk and not that of a passenger. They seem to have been prematurely cancelling flights, causing a lot of inconvenience to passengers, where other flights of that specific day landed without any problems. When presented with a (very legal) claim for excessive delay, they tried to hide behind the 'exceptional circumstances' clause, but there is no way anyone should accept that in these instances.
booking advice: you want to read this.
Whatever you book, avoid separate bookings for parts of your trip. If one of the flights is cancelled or seriously delayed, you lose the part of the trip you miss, without any right of compensation. Book all flights in one single booking and they have to take care of you getting to your destination. It's EU law, so even if you are pro-Brexit, you should be glad it hasn't come to pass yet. (oops, sorry, couldn't resist).
If at all possible, book directly with the airline and avoid, for now, booking offices, even if they offer a better deal. These offices are used to online work only and are not at all equipped to deal with a wave of claims in case of a cancellation. When our TAP flights of early May to Amsterdam were cancelled, for which we had found a very good deal with one of these booking offices, we knew we would have trouble getting the refund. We are still struggling.
Please note that I only write about air travel and not about package holidays. The rules concerning cancellations and compensations are quite different. The reason I do this is simple: this website was originally (and still is) meant to promote our Madeiran house as a holiday home. Package holidays are therefore not my speciality.
not good with the internet? use a travel agent
If you are not very good with internet bookings, you can use a reputable travel agent. They have the same tricks we use with Skyscanner, so they will be able to get you a decent deal, though. Make sure not to choose an obscure one that has no ties with any recognised organisation that would secure refunds in case things go t*ts up.
disclaimer, just to make sure you won't try and sue me
All the flights I found and mentioned are flights that I can actually book on this day. Having said that I found bookable flights, does not necessarily mean they won't be cancelled though. I can only tell you what I know based on today's information, and I won't speculate and I don't do scaremongering. The prices I mentioned are the ones I found this day as well and as you know they vary all the time.
Therefore, If I would want to book flights from the United Kingdom to Madeira, I think I would wait a couple of weeks and keep a keen eye on what is really happening. If most flights are actually operated, single out the airlines that do and book with them if at all possible, avoiding the unreliable ones.
So again, I have put in a lot of hours researching possible ways to travel to Madeira, primarily as a service to those who consider renting our beautiful house for their holidays. Seeing that things are not that easy at present, I am very pleased that anyone looking for information lands here. If you find a flight that suits you, check and double check and don't thank me for all my work by blaming me if things do not quite work out. However, if I can be of any help answering specific travel related questions, I will be happy to do so. Just ask in the comments below, so that others may find your questions and my answers useful as well.
flying to Madeira under normal circumstances.
Under normal circumstances, there are many possibilities to fly to Madeira. Since we came to Madeira for the first time in 2007, we have found a large number of affordable flights to Madeira from the Netherlands and from other countries. So we have done your research, and we will keep doing that, as things change rather often. One of the simplest things to do is to search for (cheap) flights using Skyscanner. Clicking on the Skyscanner logo below takes you to their site.

what do you mean, dangerous?
Finally, a word about Madeira's Christiano Ronaldo International Airport. Sensationalist stories keep going around and around on the Internet that Madeira has one of the most dangerous airports in the world. Maybe it was, a long time ago. But the runway was more than doubled in the year 2000 and since then, the airport is safer than ever. The last accident dates all the way back to 1977 when the runway was still very short. More importantly, the accident was caused by an exhausted crew that landed after two go-arounds in bad weather and the plane crashed when it shot off the end of the runway.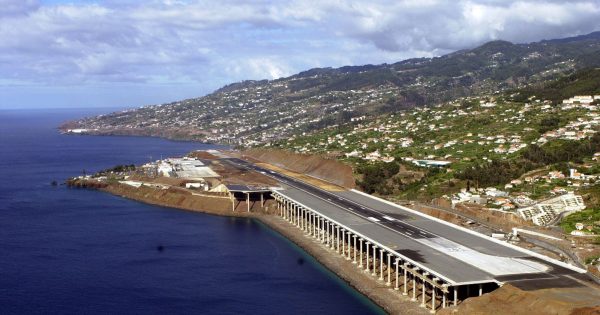 happy landing!
Aviation regulations are quite sharp, and the airport today is a very safe island airport. Like with any mountainous island, the airport can be affected by strong winds. In that case, the plane is safely diverted to another airport in the region. Annoying, yes, but better safe than sorry. In good weather, the wind is usually a light Northeasterly, and the plane will fly past the airport, which is very well visible to the right, and then make a U-turn and land from the Southwest. We found a Youtube video of an Airbus 320 landing. With the Boeing 737, this type of aircraft is mostly used for flights to Madeira. Get in the cockpit with us and enjoy a perfect landing!
#