This page is checked daily and updated if there is any new information available concerning flights to Madeira or safety regulations. It was last checked on July 27th, 2020, 10.00 AM.
Update July 27, 2020
Still no sign of the UK authorities regaining consciousness. They insist the UK is safer than Madeira (and the Azores) which is über-ridiculous, and continue to quarantine anyone travelling to the UK from these regions. Very off-putting for anyone considering a holiday to our little paradise, and the lack of bookings will doubtlessly cause airlines to cancel flights. I just found out that British Airways has already done so over the past week. Still, their flights are still bookable from august 1st onwards. At least, they allow you to alter your flights free of charge, apart, of course, from the fact that a different flight may be more expensive and you will be charged for the price difference.
Update July 23, 2020
Things may be looking up for British holidaymakers wishing to travel to Madeira. Thanks to Robert for sending us this link, where the Daily Mail states that the British government is considering air bridges to specific regions and Portugal may be included. Meanwhile, I am not yet holding my breath, as they were said to be considering this two weeks ago but they do not seem to get on with it.
Some good news thanks to our friend Pam, who told us that easyJet has confirmed her flight from Bristol scheduled on August 6. It looks like they really resume flying from Bristol to Madeira on august 3rd.
Update July 11, 2020
It is as we feared about easyJet: they have been merrily cancelling away and getting a refund is as difficult as one would expect. The flights to Madeira from MANCHESTER for August are mostly still bookable, but the flights for the 21 have been put on the ominous 'sold out', so Vicky tells me. It is extremely annoying they won't tell you what's what and keep you in the dark until the last possible moment. The fact that the UK authorities do not at all get on with removing Madeira and the Azores from the list of risky countries does not help at all. These regions are much, much safer than the UK will ever be – in more than one respect – and still the UK insists that people returning from those areas must quarantine for two weeks. They said they would look into this, but that's a week ago and nothing happened. As long as this is not sorted, I am afraid that flying from the UK will remain complicated, as one can expect very few tickets are sold, causing airlines to cancel their flights.
Meanwhile, the tests on arrival at the airport in Funchal is a pretty quick event. I spoke to people arriving from France yesterday, who told me they were not at all informed about the procedure. They did understand the necessity but it took them by surprise for which TAP Air Portugal is partly to blame. Another example of airlines needing some lessons in PR and communication. The French tourists were on the contrary very impressed with the extremely gentle and friendly way they were treated by the staff responsible for taking the covid-19 test.
Update July 18, 2020
Thanks to Tobi for bringing new information about Jet2.com to my attention. On top of cancelling the flights from Scotland altogether, Jet2 has now also cancelled all flights between July 15 and July 31. They refunded fully. flights that were already booked will be fully refunded. Jet2 say they will resume flights to Madeira from August 1st. We will keep a close eye on them, as they keep cancelling flights. The UK section has been adapted accordingly.
Update July 8, 2020
Not much news today. As I wrote before, Boris and his bunch of clowns have made a mess and created über-confusion putting Madeira on a list of countries you are allowed to go to for leisure purposes, but also on a list of regions that require quarantine upon return to England. Is seems Scotland has different rules, so I won't even go there unless they finally create some clarity. It seems to me that the world would be better off if England quarantined anyone leaving the UK, as the UK is one of the most unsafe European countries at present where covid-19 is concerned. Anyway, there are talks to take Madeira off the list of countries that require quarantine upon return to England. But as you know, I will only confirm this when I am sure this is actually the case. For now, it's rumours and it's gossip.
Better news about the tourists arriving on the island. I have temporary neighbours from Germany who arrived last Sunday. I just spoke to them, and they told me the process of getting the covid test upon arrival at the airport is flawless, though the test itself is a little uncomfortable but certainly not painful. The whole process took 15 minutes from the moment they got their bags off the carousel. Children up to 12 years do not need to be tested. Contrary to yet more rumours, there is no app involved. You have to register here, after which you receive news on the covid-front daily if there is any. Also, you may be contacted by email with questions about your state of health. Nothing overly intruding in your privacy and certainly not an app of the track-and-trace type.
The only thing that did not go according to plan was the time needed for the test result. It took the service 18 hours instead of the announced 12 to inform your neighbours. On the other hand, there was a lot of health staff present at the airport, ready to answer any questions in at least English and German. In short, the Germans were absolutely charmed by the way they were received, the politeness and the way things were organised. Knowing the Germans, who are generally very well organised and disciplined, you can count on this observation to be accurate. Well done Madeira! As I have stated many times, I am not at all a fan of the PSD-M administration lead by Albuquerque, to whom nepotism and corruption are by no means alien, but the covid-19-crisis has been diligently dealt with and the virus continues to be under control on Madeira. Even the Portuguese president Rebelo de Sousa, who visited the island just now, said that Madeira is exemplary to the way a pandemic should be dealt with and a safe place to visit in these difficult times.
Update July 4, 2020
Our boys Julien and Philippe landed safely from Brussels yesterday. They told us the reception at the airport was extremely friendly and really hassle-free. There were two corridors, one for 'with test' and another 'without test. They had one and were allowed to proceed without further ado towards the car hire desks. The airport people were aware of the fact they had not yet properly organised the flow from the with/without test corridors to the hire car desks. Apart from that, everything went flawless. They received a small 'Welcome to Madeira and Porto Santo'-kit containing an elegant face mask in the Madeira colours, a 'discover Madeira' pen, a sanitizer wipe and a leaflet with the basic recommendations for their stay. All very well done, made them feel at ease immediately and only added to the island's welcoming atmosphere. (TUI). We will soon hear the story about how disembarking went in view of the covid measures, and update this page accordingly.
The situation regarding the United Kingdom and the new travel corridors gets more confusing by the minute. There is no problem when travelling to Madeira. The same rules go for everyone, either you are in possession of a recognised test report showing you are covid-19 negative, which can be no older than 72 hours upon arrival. Or you get one at the airport, after which you have to social distance yourself for the time needed to get the test processed, which is always less than 12 hours. No quarantine, just go on to your final destination and keep to the safety regulations. The British government has managed to create the ultimate confusion by having two ministries come up with two different lists of countries from where you can travel back to the UK without self-quarantining upon arrival. Why anyone would want to return to such a mess is beyond me, but by the time they have sorted out this chaos (if ever) and make a statement a mere mortal like me can understand, I will let you know. Sorry, I can't be more helpful here, but remember who is responsible for this.
Update July 3rd, 2020
Thanks to Saar for new information concerning flights from Amsterdam. TUI Nederland will start offering flights to Madeira from July 20, 2020. Tui offers a Covid-19 test before departure, at no extra cost. The Tui information about measures upon arrival in Madeira is not completely correct, always have a look at this page for the latest information.
Update July 1st, 2020
A little off-topic information, still important for some of my readers. Many of you have found your way to this page via Tobi's Madeira Island News. He is experiencing a lot of trouble caused by his web host who does not seem to keep up with Tobi's traffic. He may be offline for a while, a nightmare for him, and for all of us, as now is the time we all need to be kept updated on the news. Be patient, please, and stay faithful to our best source of Madeira information. On that note, if you have a Facebook account, you can still visit his news page there. Tobi continues to be an important source of news. A relevant little snippet of news is that he just let me know that the first easyJet flights since the State of Emergency, from Porto and from Lisbon, that were announced earlier, have indeed arrived at the airport. Tomorrow, a number of international flights have been announced. We will keep track of which airlines actually arrive.
Thanks to Mathias, one of my future guests, who told me that Munich's airport in Germany is also setting up a testing facility. On the downside, they are very expensive at a whopping 190€ per test. Maybe is't best to stick to the Madeira facility.
Travellers who have a Portuguese residence and are travelling from mainland Portugal to Madeira can now have a free test in Lisbon. You have to make an appointment online, and the form is in Portuguese only. The moment the test is taken will be based upon the day you have a flight to Madeira. The test is executed by the Universidade Nova de Lisboa but the location your test will be taken will be communicated in the confirmation.
Update June 30, 2020
Things are looking up for the TUI flights from Germany. Thanks to Sabine for letting me know that TUI is resuming their flights to Madeira as of the first week of July. She tells me she just got her flight from Düsseldorf confirmed. Enjoy your holiday and welcome to Madeira, Sabine. The information has been added to the paragraph for Germany.
And thank you Reinhard for a very interesting news snippet: The Frankfurt Airport has opened a covid-19 test centre. You can get a covid test there, and if you want the results in 2 hours you pay 139€. However, if you can agree to wait for up to 6 hours, the price comes do0wn to an affordable 59€. This information has been added to the relevant paragraph as well.
Update June 28, 2020
Thanks to Magno Jardim, who published this very useful table o n his facebook page. It indicates the confirmed flights for july. We still have to keep our eyes open, as flights confirmed today may still be cancelled next week. I have noteiced flights I had not written about, and they will be added to the relevant sections. I wil try to do that later today, as I am a bit short in time at present. For now, please use the image by clicking it to go to the dedicated Portuguese page of Kiosque da Aviação, as ANA (owner of the Portuguese airports) did not bother putting this on their official airport website.
Update june 26, 2020
Thanks to Liesbeth from Belgium for bringing some more information to my attention concerning the covid-measures upon arrival at the airport after July 1st. Her information has been inserted in that paragraph. Also, she found out that Transavia is flying three times a week in summer, not four. The information has been adapted in the Amsterdam section.
Thanks to Bob for asking a relevant question about the Aerobus service, to which I now received an answer from the SAM bus company, who are operating this service. They informed me that they don't know when they will be allowed to resume their service, however, there is a regular bus service that connects the airport to central Funchal. I have put the timetable on the dedicated page about bus transport here.
Thanks to Tobi for signalling possible problems with Edelweiss from Zürich. He received clues about them cancelling all July flights but the ones on the 7th. I have looked into this but found no proof yet.
Update June 25, 2020
Thanks to Victoria for giving us some news, however sad. Jet2 is cancelling their complete program of package holidays from Newcastle for the summer of 2020. They were booked to fly from Newcastle on October 22nd, 2020, and just got a message from Jet2 informing them that their flights were cancelled because the whole package program out of Newcastle has been cancelled. It would be naïve to think the packages from other airports will be maintained.
Thanks to David, Andrew and Steve for giving me a 'heads up' for Jet2 flights from the Northern airports of the UK. Dave informed me that Jet2 is cancelling his flight from Manchester, leaving August 3rd. The infuriating thing is, that his flight is still bookable on the Jet2 website, as are the flights in July. Go to the Manchester section to read my findings. Andrew let me know that his flight out of Newcastle on July 30th was cancelled, and Steve just gave me a general heads up for all airlines flying out of the Northern airports Manchester and Newcastle and from Scotland. I will keep a close eye on the available information.
Update June 24, 2020
Thanks to Amanda for bringing some confusing information to my attention about flights from Newcastle. There will be flights showing up in their calendar as early as July, but if you try to book them, the site will tell you "sorry, we don't fly this month. Try August and you get a calendar with flights you can select from. Try to book them and it will return an empty calendar with no information. Sorry, Jet2, but if you continue to publish confusing information on your website, you are at high risk of getting a prime spot on the 'heads up' list of airlines. The Newcastle information has been altered accordingly.
Thanks to Julien for telling me that TUI Belgium is sending faulty information to their passengers out of Brussels on July 3rd. They have sent an email to the passengers booked on that flight, saying that they need a negative covid-19 test report no older than 76 hours upon departure. That is the first thing they got wrong. It's 72 hours, and it's upon arrival. Then, they go on saying that if you haven't got that, you get one upon arrival, courtesy of the Madeiran authorities. That is correct. And finally, they tell you that after the test has been taken, you have to be quarantined in a hotel. Wrong again.
TUI, this is not helpful. Get your act together and find out the information that is official and double-check before you send wrong information. Scroll up and find the information about the situation after July 1st to get the correct information.
update June 19, 2020

.

The article about flights to Madeira hasn't even been online for 24 hours and already I received information that needs looking into.
Thanks to Luis for pointing out new quarantine rules for June. His information has been inserted in the paragraph about the June situation.

Thanks to Steve for helping me gather information about the easyJet services from London Gatwick. The text has been altered accordingly. The part about flights from Edinburg has been altered, thanks to new information I received from Mike Wilkinson and from Ashley. Also, I corrected the part in the Scotland paragraph where it said Manchester instead of Glasgow. Thanks for pointing me in the right direction, Alastair.

The information about flights from Zürich has been altered as well, thanks to new information from Gary. Thanks to Eric for updating my information about the flights from Prague. The text has been altered accordingly. Thanks to Barry Cooper for sending the information about flights from Newcastle, which has now been added.
Flights to Madeira and covid-19
Flights to Madeira. The covid-19 outbreak has brought the air traffic between Madeira and foreign countries to a grinding halt. But from early July, gradually a number of airlines will resume their services to and from Madeira. However, many direct flights are not yet scheduled. In the case of easyJet, some are indicated 'sold out'. This is cheating of course because they aren't. But after many people complained about this practice, they have now put an explanation on their website.
Between the lines, you can read these flights are likely to be cancelled. It looks like Jet2.com has adopted the same policy recently. On top of that, they already cancelled flights without altering the information on their website. In other words, some flights are still bookable though passengers who already booked have received a cancellation from the airline. Needless to say, these are bad practices that must be exposed to the public.
Updates.
This page is, as someone commented, a living and morphing thing. And so it should be. Things change and new information becomes available. I'd like to express a huge Thank You to all those who commented. I will answer every one of you individually in the comments section. Also, I will alter the article if I find any new information that differs from what I wrote originally. As always, I'll check and double-check. Mind, I don't know everything either, and I am grateful for all your contributions.
A lot of speculation is going around, but, as you may expect of me, I won't give in to that and I will only write what I know is true. But things change often, so come back to this page regularly for the latest state of things.
As the new situation differs very much per region or country, I will deal with them in separate paragraphs. But first, let's have a quick look at the situation as it is, now that we are still in June.
Leave a comment at the bottom of this page if you are looking for specific information. We don't know everything, but we have a lot of sources of information so we may be able to find out what we don't know!
Click here to visit the special page with the latest covid-19 information on Madeira.
rules in place till the end of June 2020
At present, Madeira still has a quarantine obligation for anyone arriving here, unless you are in possession of a negative covid-19 test report no older than 72 hours. Your quarantine location is a dedicated hotel, and the Madeiran Regional Government will pick up the bill for that stay. After one week of quarantine, a covid-19 test is done and if this turns out negative, the person in question is free to go. It turns out that this compulsory quarantine is illegal because the State of Emergency has ended a while ago, and the 'state of exception' that came in its stead, does not offer the government the right to put anyone in confinement without a legal reason.
A legal reason – usually if the person is suspected of a crime – must be accompanied by an arrest warrant. There have been some 'habeas corpus' lawsuits, one in the Autonomous Region of the Azores and one in the Autonomous Region of Madeira. In the Azores, the case was lost by the government. in the Madeira case, a settlement was reached between the parties. The young man involved agreed to self-isolate at home instead of in the dedicated hotel Vila Galé in Santa Cruz. However, the Madeiran regional government would have had a weak case, as confining a healthy person is unconstitutional outside a state of emergency. Still, if a lawsuit is what it takes to release you from an involuntary quarantine, you may want to postpone coming to Madeira until after July the first.
July 1st, 2020: no more quarantine, free covid-19 test
Starting July 1st, Madeira welcomes tourists again to the island. From the tourists' point of view, Madeira is an extremely safe destination at present. There is one last active but recovering case of Corona on the island, with mild symptoms only, and in isolation, and closely monitored by the Madeiran Health authorities IASaúde. There is no moaning about the obligation to wear masks, though social distancing is becoming less well respected now that the island is virtually free of covid-19. Still, we feel very relaxed now as there haven't been new infections over a month and a half and even though the quarantine rule is questioned, new arrivals are still isolated or at least told to isolate themselves at home.
Allowing an afflux of tourists back on the island is an absolute necessity because people have lost their income and relatively poor Portugal only has limited resources to support them. Therefore, it makes sense to welcome tourists back on the island. Still, it's tricky. These are the new rules:
prior to or upon arrival
All passengers are required to fill out a form tracking their contacts over the last couple of days. You can do this online prior to your trip, or upon arrival. The form can be found here in various languages.
The body temperature of all passengers is taken upon arrival.
A passenger arriving at the airport carrying a negative covid-19 test, no older than 72 hours at the moment of arrival, is allowed to proceed to his final destination. The test must be executed by a recognised lab. At present, to my knowledge, only the airport of Frankfurt offers the possibility of getting a covid-19 test. If you want the results in 2 hours max, the price is 139€, if you can wait for up to 6 hours, it comes down to 59€.
A passenger not carrying such a test will receive one free of charge upon arrival. After the test has been taken, the passenger can proceed to his final destination where he will be informed of the result within 12 hours.
register
Not compulsory, but a clever move: register as a tourist prior to arrival. This way, the health authorities have a way of contacting you in case anything should occur that would be good to know. You can register here with a choice of several languages.
tested positive on covid-19?
In the unfortunate case a passenger arriving on Madeira is tested positive on covid 19, he will be quarantined at a designated hotel, together with his direct contacts, though it does not state clearly who would be designated as direct contacts. Read the official information on the official page about visitors and covid-19.
The cost of treatment and of your quarantine stay will be covered by the Madeiran government. In case a repatriation is needed, the passenger has to pay for it himself.
A beautiful brochure has been made available by the Madeiran Tourist Board. It can be downloaded or consulted here. It is not completely waterproof, but it gives a good overview of the do's and don't's. The only flaw I found was the schematic image of what to do upon arrival, giving two possibilities to select from: negative Covid test and positive covid-test. It does not mention the possibility that will occur most frequently: covid test taken and awaiting results. Again, it's easy: stay in self-isolation until you get the negative result.
For anyone arriving at the airport counting on the Aerobus, it's important to know that they haven't resumed their service yet (on June 26). However, there is a regular bus service between Funchal and the Airport. The timetable is on my page about bus transport here.
during your stay on the island
wear a facemask when visiting an indoors public space or while on a bus or taxi;
apply social distancing. The required distance on Madeira is 2 metres.
disinfect your hands frequently
apply breathing etiquette (an elegant way of saying: don't cough in anyone's face)
The rules that apply during your stay are pretty straight-forward and shouldn't come as a great hardship. Having said that, we know that in the Netherlands people keep moaning about the face masks and the discussion about them has no end. We fail to understand this. It's a good thing to protect others by keeping anything you exhale with you instead of blowing it in someone else's face. Even if it is only 50% effective. It's always better than 0% effective. Anyhow, I wear my face mask with pride. It has the Madeiran traditional colours and was given to me by my dear friends of the Fado house Sabor a Fado in Funchal.
the key question: how to get to Madeira
Within the European Union, most countries of the Schengen-treaty have mutually opened their borders as of last Monday. Spain has not yet, so travel overland to Portugal is not a possibility at present. Today, most foreign ministries have issued a map where the travel code is visible per country. I checked the one issued by the Dutch foreign ministry, and it shows that all of Portugal, including the islands, have code yellow, meaning you can travel there for leisure purposes, but you have to remain aware of the health risks.
This is important because it has an effect on your travel insurance. Before booking anything at all, it is wise to check what is, and what isn't covered under the covid circumstances. Now let's have a look at the possibilities per country or per region.
Great Britain
It looks like the biggest problem of travel restrictions for the British lies in the United Kingdom and not in the European Union. Though I'd love to add some political comments here, I will refrain. Reluctantly. If you wish to travel to Madeira, or to any other European destination, make sure and find out exactly what awaits you when travelling back to the UK, because you will probably be required to remain in quarantine for two weeks. All this is reflected in the travel possibilities. EasyJet is not resuming their direct flights to Madeira just yet but seems to be picking them up later in July.
London airports
From July 17, I have found direct flights from London Gatwick and from London Stansted that I can actually book. They are executed by Tui. Jet2.com have cancelled all flights up to the end of July and say they will resume flights from August 1st. From July 24, easyJet also has bookable flights that are not indicated as 'fully booked'. A very practical tool I use is Skyscanner, as it will not include the falsely 'fully booked' flights of easyJet. So with that crap filtered out, you only get the flights you can actually book. If you want to fly earlier in July, there are enough possibilities, but you have to change planes.
Play a little with Skyscanner and you will find quite inexpensive flights going to Madeira by Lufthansa and coming back by Swiss. I found one from Heathrow for 341€ on July 4th, returning a week later. Travel time not even all that long, considering. 6 hours 50 there, 7 hours 40 back. Time for a meal in the transfer airport, as you have to travel with a mask and no food is served on the planes at present. And there is TAP, of course. As a national carrier, TAP is the less likely to randomly cancel flights to Madeira, as they have the obligation to ensure transport of people and goods to and from the island. British Airways seems to resume some direct flights from late July.
Manchester
Tui has taken all flights till the end of October off their website, so we can only hope that Jet2 will indeed resume flying to Madeira from the beginning of August. The first bookable Jet2 flight is on August 3rd. This flight is indeed bookable at this moment (July 9) though earlier information said this flight has been cancelled. We can only hope the information on the Jet2 website is correct now.
Scotland
Jet 2 have bookable flights out of Edinburgh on their website from August 3rd, 2020.
Newcastle
Jet2.com is sending contrary information about flights out of Newcastle. What seemed to be bookable flights on July 16 turns out to be nonexistent according to their site. After some digging, it looks like the airline will commence flights to Madeira only on October 29. Jet2 must rework their website seriously because in their calendar there are flights from July onwards, which subsequently turn out to not exist. I was also informed that Jet2 has cancelled their package holidays to Madeira from Newcastle. They will probably cancel their complete Madeira package programme 2020, but this is yet to be confirmed. I will keep monitoring Jet2 though their website is not being kept up to date. We are not amused, Jet2.
Bristol
Direct easyJet flights from Bristol should resume from August 3rd. Again, the return ticket (3 till 10 of August) is one I can actually book. After checking again on July 23rd, it looks like they will indeed resume flights on August 3rd, as the flights are not labelled 'sold out' and are still bookable.
Germany
Lufthansa and Condor Airlines will resume their direct flights to Madeira from the first week of July. On June 30, we received a message that a Düsseldorf flight for that week has been confirmed. July. Germany will have a large number of direct flights from the cities of Hamburg, Düsseldorf, Frankfurt, Hannover, Stuttgart and München. Dresden has no direct flights announced in the immediate future, but still offers reasonable possibilities by Lufthansa with a transfer in Frankfurt. We received confirmation that there is a covid-19 test centre at the airport in Frankfurt. If you want the test result within two hours, the price of a test is 139€. If you want the results within 6 hours, the price comes down to 59€. We are anxious to hear from any traveller who has actually used this facility, as this would be a good thing for island destinations like Madeira. Meanwhile, we heard that the Munich airport is now offering tests as well, very expensive at €190,00 per test.
Netherlands
Transavia will start flying again from Amsterdam to Funchal early July as well. The first flights already have been executed. From July 20, TUI Nederland will also offer flights to Madeira. They will be executed by Transavia, but the prices may be more interesting. Also, TUI offers covid-19 tests at their expense prior to departure. The Tui information on their website is not completely correct, however, and I have given them the actual information about Madeira and covid. As soon as they have corrected their website I will put in a link here. The frequency over July and August was announced as 4 times a week, but it looks like the frequency will be 3 times a week, on Mondays, Thursdays and Saturdays.
Belgium
From Brussels, TUI will pick up their direct flights to Funchal again, as well from early July. We have members of our family travelling on the first flight out of Brussels Zaventem on July 3rd, so we will be able to tell you if that flight was actually operated. If you have booked a TUI-flight from Brussels, you may get an email from them with incorrect information about the covid-19 procedure upon arrival.
We try to have the latest information here (scroll up to the relevant paragraph) and we link to the official Madeiran information. Tui obviously has omitted this and sends confusing and wrong information. Just so you know. Anyone in doubt: quarantine only if you test covid-19 positive OR if you don't wish to have a test taken. If you test positive you will be put into mandatory quarantine but will be retested after 7 days. If you test negative then, you are free to go.
Scandinavia and Finland
The successful and very practical direct services by Norwegian are still suspended and will remain suspended for the time being. Only the service from Oslo will be tentatively started up again on September 14. So the best bet to get from or to Denmark, Sweden or Finland is via Lisbon. Tap has already started up a number of services between Lisbon and the European capitals.
Poland
The direct service to and from Warsaw has been suspended. However, there are a number of possibilities every day, but a stop is always involved. Skyscanner is the easiest way to get an overview of prices and travel times. For those living in southwest Poland, the one-stop Lufthansa option from Dresden, Germany, might be an option.
Austria
The direct service between Vienna and Funchal by Austrian Airways has been suspended as well. For those living in western Austria, using flights from Munich or even from Zürich are an interesting option. Otherwise, it's going to be a pain in the behind, as all the possibilities I found, contain an overnight stop somewhere. Even for those living in eastern Austria, taking a train to Munich and flying from there is probably the most comfortable way of travelling to Madeira for the moment.
Switzerland
From July 7th, Swiss and Edelweiss will start flying again between Zürich and Funchal. I was given a heads up because there are rumours that Edelweiss already cancelled all July flights but the one on the 7th. As you can see in the image, on June 26 I can still book flights on the 14th and the 21st though. I'll keep a close eye on this.
Also on July 7, easyJet starts up the line between Basel/Mulhouse to Funchal. As Mulhouse is in France, and Basel/Mulhouse airport is actually situated on the French side of the border. That brings me to
France
Like in the case of Amsterdam, three French airports are connected to Funchal by Transavia Airlines. These connections are also started up early July. There are direct flights from Paris Orly, Lyon and Nantes.
Czechia and Slovakia.
Early July, Smart Wings said it would start flying directly between Prague and Funchal. When this page came online, their flights were still bookable. The only way now is with multiple stops or one-stop and excessive pricing. Unfortunately for Slovakians, there is no practical way to get from Bratislava to Funchal. The best bet is to drive to Prague or even to Munich, as a flight with 2 or more stops is hardly feasible. For those living in the northwest of Czechia maybe a one-stop trip with Lufthansa from Dresden via Frankfurt is a viable option.
Italy
Italy has not, and has never had, direct connections with Funchal. No matter. The main Italian airports are well serviced by TAP Portugal to bring you to Lisbon. From there, it is not difficult to get a flight to Madeira, especially when the frequency of the flights between Madeira and the mainland are brought back to their usual frequency.
Spain
The Spanish mainland has no direct connections with Madeira at present. Mainland passengers from Spain are not allowed to travel abroad. This may change when the Spanish borders are no longer closed. For now, only Gran Canaria and Tenerife have direct flights to Madeira, as the Canary Islands have been less affected by covid-19 and travel between the two regions is allowed.
flying to Madeira with a stop: TAP Portugal
At present, the information on this page is dominated by the exceptional state of things caused by the covid-19 outbreak. As soon as things get back to normal, this page will be gradually adapted to the actual situation. As direct flights are not as abundant as they used to be, I would like to add a small piece of advice. Why not fly via Lisbon or Porto?
There are less direct flights to Madeira in the summer of 2020. And the ones that are operated have a habit of leaving at an ungodly hour. Therefore, some prefer the hassle of a stop in Lisbon over losing a good night's sleep, thus really losing the first day of their stay on Madeira for pure exhaustion. The logical choice would be the Portuguese national carrier TAP Portugal, Wherever you are leaving from, you always have a stop in either Lisbon or in Porto. For those with plenty of time, this may be a bonus, as TAP Portugal offers 'free' stopovers of up to 5 days without an extra . If you haven't been to either, both cities are really worth a stay, but of course, you will need a hotel and meals are not free.
limited transfer time
If you decide to fly with TAP Portugal but without a stopover, usually, TAP has connecting flights with a limited wait in Lisbon or Porto. Sometimes, the transfer time is less than an hour. That should not be a problem, but if you arrive in Lisbon or in Porto a bit late, you may still catch your connecting flight, but your bags may not. It is not a huge problem, because the bags will turn up and TAP will deliver them at your destination. Still, it is annoying, especially if you did not think to put some emergency underwear and a spare shirt in your hand luggage.
In conclusion, Madeira is one of the safest destinations at present. As we keep saying in our blog articles: the stunning nature of Madeira knows no covid-19 restrictions and most footpaths are open as usual. Before booking, make sure there is no negative travel advice in place. Also, make sure you will be able to return home. Unless, of course, you have your own home on Madeira and can stay indefinitely.
thumbs up or heads up?
It would be a good idea to keep track of how the airlines perform over the next couple of months. If you have booked a flight to Madeira – or from Madeira – let us know your experiences. By doing so, I will be able to add a list with the ones that deserve a thumbs-up mark, and those who need a heads-up-mark. Simply tell us by leaving a comment at the bottom of the page.
booking advice: you want to read this.
Whatever you book, avoid separate bookings for parts of your trip. If one of the flights is cancelled or seriously delayed, you lose the part of the trip you miss, without any right of compensation. Book all flights in one single booking and they have to take care of you getting to your destination. It's EU law, so even if you are pro-Brexit, you should be glad it hasn't come to pass yet. (oops, sorry, couldn't resist).
If at all possible, book directly with the airline and avoid, for now, booking offices, even if they offer a better deal. These offices are used to online work only and are not at all equipped to deal with a wave of claims in case of a cancellation. When our TAP flights of early May to Amsterdam were cancelled, for which we had found a very good deal with one of these booking offices, we knew we would have trouble getting the refund. We are still struggling.
Please note that I only write about air travel and not about package holidays. The rules concerning cancellations and compensations are quite different. The reason I do this is simple: this website was originally (and still is) meant to promote our Madeiran house as a holiday home. Package holidays are therefore not my speciality.
not good with the internet? use a travel agent
If you are not very good with internet bookings, you can use a reputable travel agent. They have the same tricks we use with Skyscanner, so they will be able to get you a decent deal, though. Make sure not to choose an obscure one that has no ties with any recognised organisation that would secure refunds in case things go t*ts up.
disclaimer, just to make sure you won't try and sue me
All the flights I found and mentioned are flights that I can actually book on this day. Having said that I found bookable flights does not necessarily mean they won't be cancelled, though. I can only tell you what I know based on today's information, and I won't speculate and I don't do scaremongering. The prices I mentioned are the ones I found this day as well and as you know they vary all the time.
Therefore, If I would want to book flights from the United Kingdom to Madeira, I think I would wait a couple of weeks and keep a keen eye on what is really happening. If most flights are actually operated, single out the airlines that do and book with them if at all possible, avoiding the unreliable ones.
flying to Madeira under normal circumstances.
Under normal circumstances, there are many possibilities to fly to Madeira. Since we came to Madeira for the first time in 2007, we have found a large number of affordable flights to Madeira from the Netherlands and from other countries. So we have done your research, and we will keep doing that, as things change rather often. One of the simplest things to do is to search for (cheap) flights using Skyscanner. Clicking on the Skyscanner logo below takes you to their site.

what do you mean, dangerous?
Finally, a word about Madeira's Christiano Ronaldo International Airport. Sensationalist stories keep going around and around on the Internet that Madeira has one of the most dangerous airports in the world. Maybe it was, a long time ago. But the runway was more than doubled in the year 2000 and since then, the airport is safer than ever. The last accident dates all the way back to 1977 when the runway was still very short. More importantly, the accident was caused by an exhausted crew that landed after two go-arounds in bad weather and the plane crashed when it shot off the end of the runway.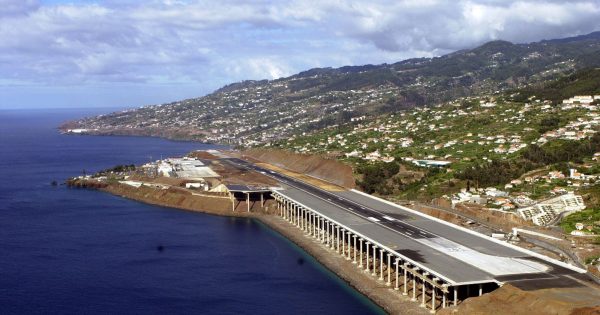 happy landing!
Aviation regulations are quite sharp, and the airport today is a very safe island airport. Like with any mountainous island, the airport can be affected by strong winds. In that case, the plane is safely diverted to another airport in the region. Annoying, yes, but better safe than sorry. In good weather, the wind is usually a light Northeasterly, and the plane will fly past the airport, which is very well visible to the right, and then make a U-turn and land from the Southwest. We found a Youtube video of an Airbus 320 landing. With the Boeing 737, this type of aircraft is mostly used for flights to Madeira. Get in the cockpit with us and enjoy a perfect landing!